Grimposium, Project SOMEONE and their long-standing partner Heavy Montreal are proud to announce the return of grindcore legends Pig Destroyer to Montreal on Friday, July 26, 2019. This powerful and intimate event will open with local electronic improv outfit, Landscape of Hate, run by Project Someone director Vivek Venkatesh and his colleague Owen Chapman of Concordia University. Performing in Landscape of Hate will be Vivek Venkatesh, anabasine, Jason Wallin, and Annabelle Brault. Visuals by David Hall. Music composed by Vivek Venkatesh, Owen Chapman, and anabasine.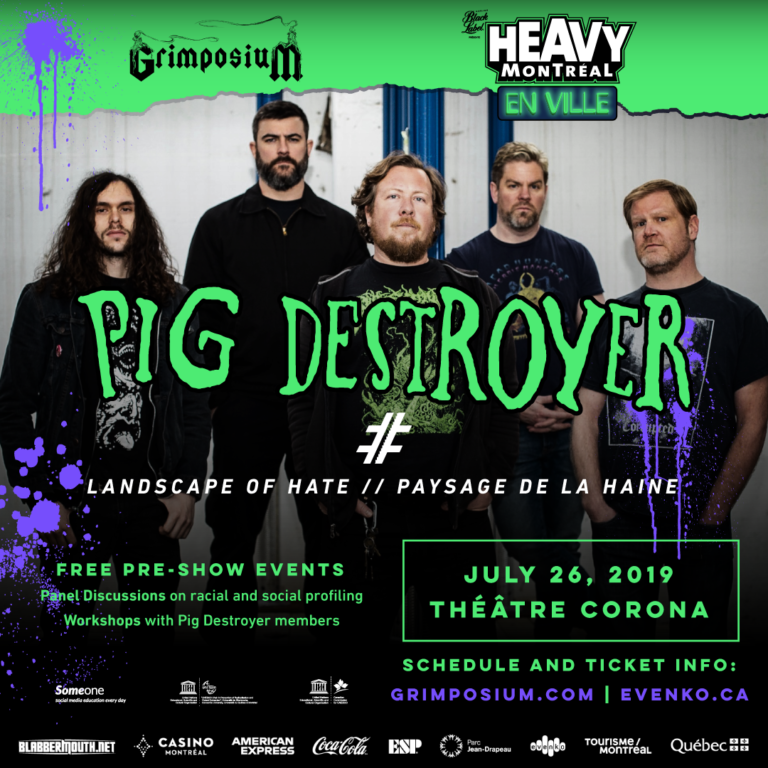 This event will also offer creative workshops with both bands and a panel discussion on racial and social profiling featuring local activists, youth and community leaders. Workshops and panel session are free to the public.
Panelists
– JR Hayes, Pig Destroyer lyricist and singer
– Elsa F. Mondésir Villefort, youth educator and member of the Youth Advisory Group of the Canadian Commission for UNESCO
– Will Prosper, documentary filmmaker, civil rights activist, former RCMP officer
– Vivek Venkatesh, Director of Project SOMEONE and Co-Founder of Landscape of Hate
Moderator 
Annabelle Brault, music therapist and Landscape of Hate collaborator
For more information click here.