This section brings together multimedia tools and resources developed by the UNESCO-PREV Chair. They cover a variety of themes, including inclusive dialogue in an educational context and disinformation.
FROM HATE TO HOPE — MOOC

In April 2018, Global Affairs Canada granted funding to the UNESCO-PREV Chair to develop an massive open online course entitled "From Hate to Hope" (MOOC) that draws on cutting-edge research in several areas of human and social sciences to find strategies to facilitate resilience to hate through pluralistic dialogues.
Seven (7) videos (all available in English, French and Arabic) were thus created as part of this course. In these videos, interventions by experts in the fields of extremism, political science, psychology, religion, human sciences, education sciences, arts-based pedagogy, sociology, media studies and informatics highlight the multiple facets of the fight against hatred. The videos also emphasise the potential for developing effective primary prevention activities in school and university settings as well as in public spaces. The following themes are explored:
Definitions of hate
Challenges related to hate on the Internet
Factors leading to radicalization
Radicalization : repellent and attractive factors
Hate groups' techniques
Online dialogue, resilience and hate
Perspective on prevention and resilience
To access the online training sessions, click here.
PROMOTING PLURALISTIC DIALOGUES IN CLASSROOMS — WEBINAR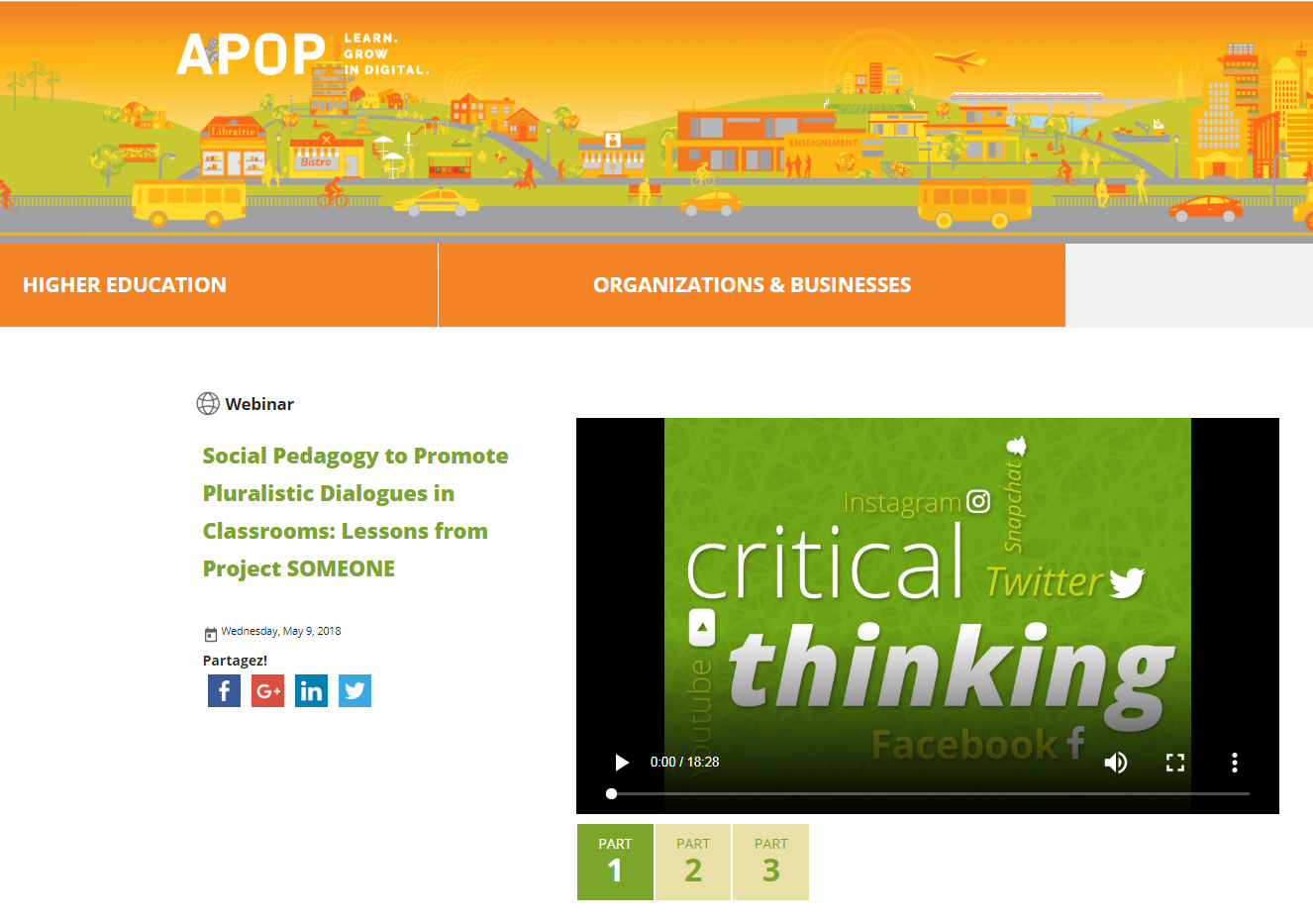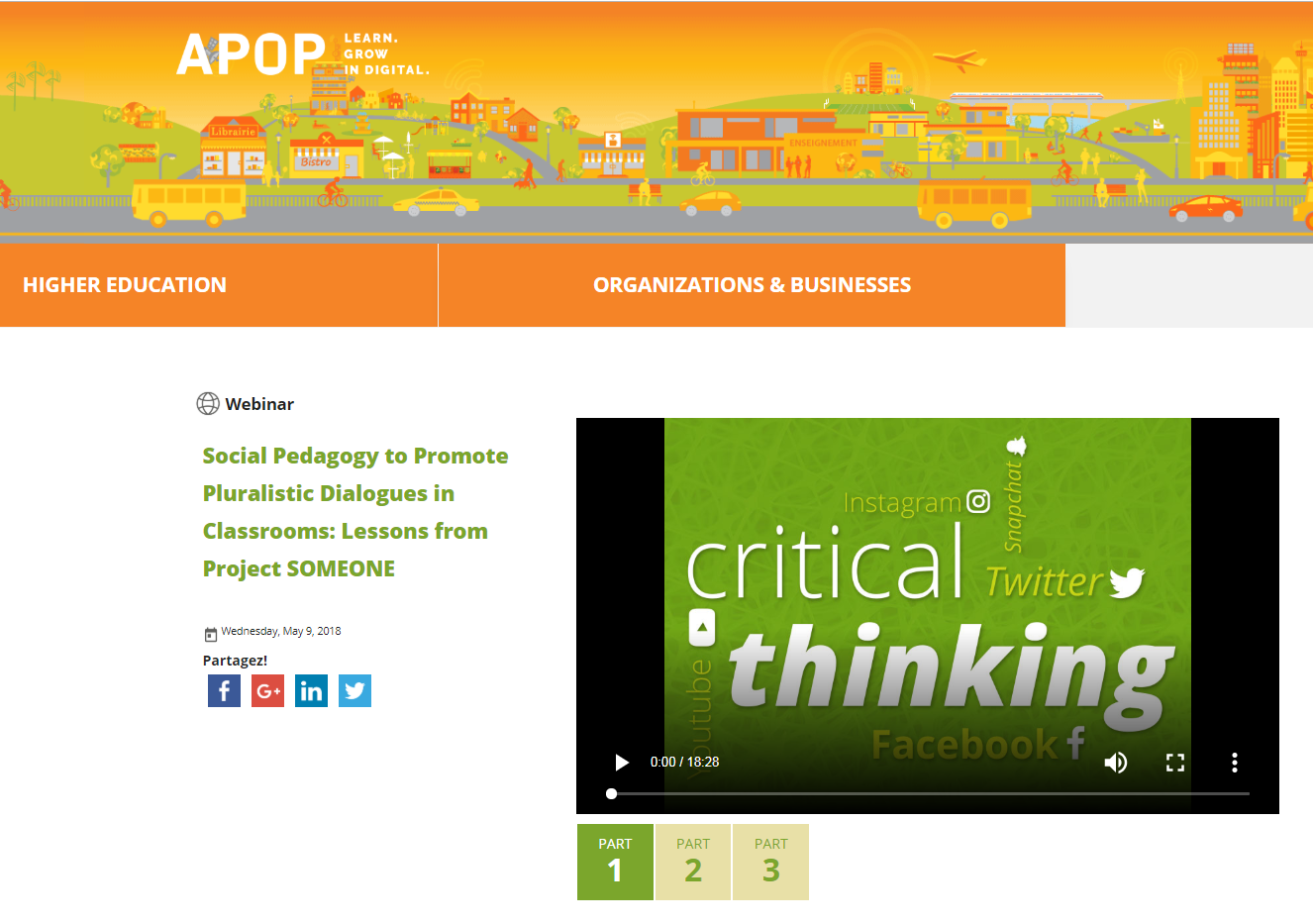 Vivek Venkatesh, co-holder of the UNESCO-PREV Chair, took part in a webinar organized by the Association for the Educational Application of Computer Technology at the Post-Secondary Level (APOP). His segment, entitled "Social Pedagogy as a Tool for Promoting Pluralistic Dialogue: Lessons from the SOMEONE Project", aimed to introduce teachers and professionals to the tools available to facilitate inclusive dialogue in their classrooms.
To access the webinar,  click here.
NORMS OF MEDIA CONSUMPTION IN EXTREME METAL — PODCAST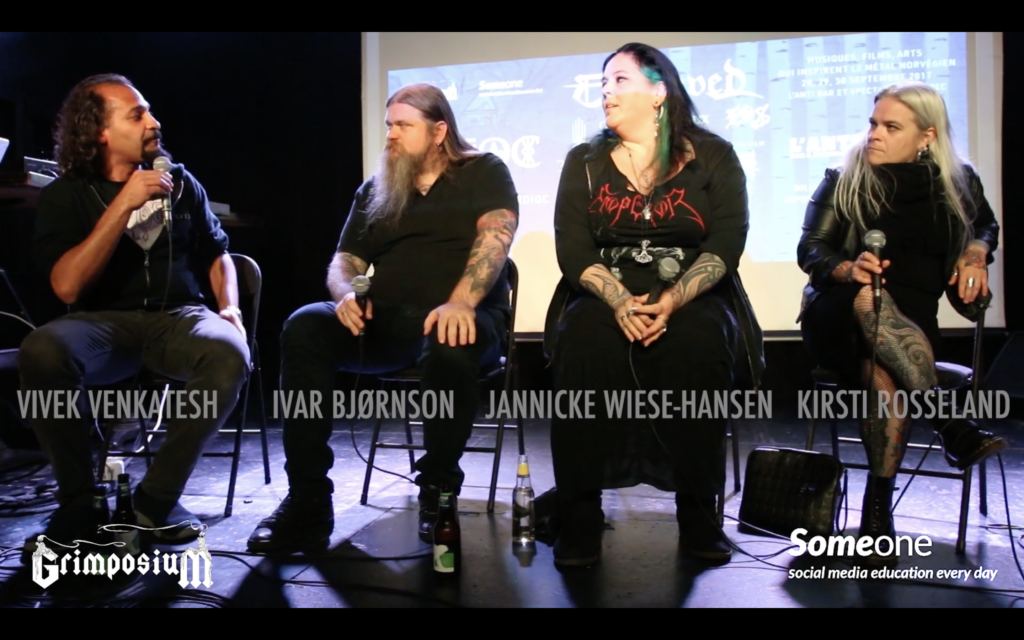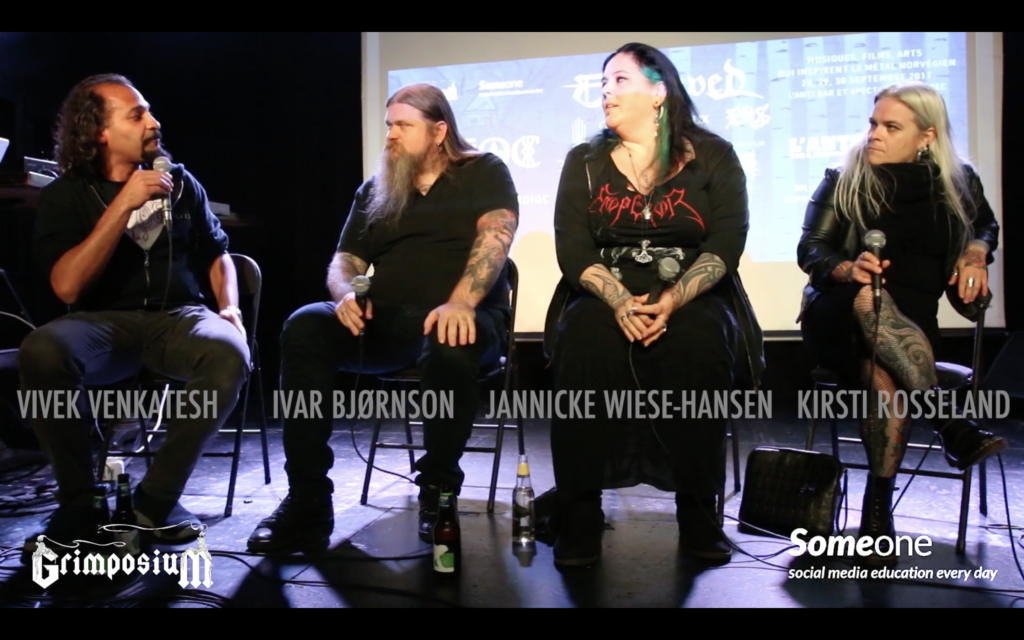 This new four-part podcast series explores timely and thought-provoking topics. Whether it's the reappropriation of runes, the dangers of media censorship, the distinction between the art of provocation and hate speech, or giving women a voice to describe their experiences in the music industry, no topic is too difficult for Vivek Venkatesh and her co-host, Michelle Ayoub. Produced by Aaron Lakoff and Kathryn Urbaniak, each episode lasts approximately 30 minutes and features original music by Leticia Trandafir. Discover the series.
Episode 1
The first episode is titled Propositions for Cultural Reappropriation and features Jannicke Wiese-Hansen, Kirsti Rosseland, Ivar Peersen (Enslaved) and Kjetil Grutle (Enslaved).
Episode 2
The second episode, titled Balancing Free Speech, Critical Thinking and Media Literacy, features J.R. Hayes (Pig Destroyer), Richard Johnson (Agoraphobic Nosebleed) and Ihsahn (Emperor).
Episode 3
The third episode, Social Media: The Good, the Bad and the Unforgivable, showcases Neill Jameson (Krieg), Jason Rockman (Slaves on Dope), Ihsahn (Emperor), Richard Johnson (Agoraphobic Nosebleed) and Sean McGuinness (Pissed Jeans).
Episode 4
Women in Metal: Underdogs or Equals? is the last episode of the series. It features Kirsti Rosseland, Jannicke Wiese-Hansen and Ivar Peersen (Enslaved).
To listen to all four (4) episodes, click here.
Please note that the podcast is only available in English.
HATRED IN AN ERA OF MISINFORMATION — WEBINAR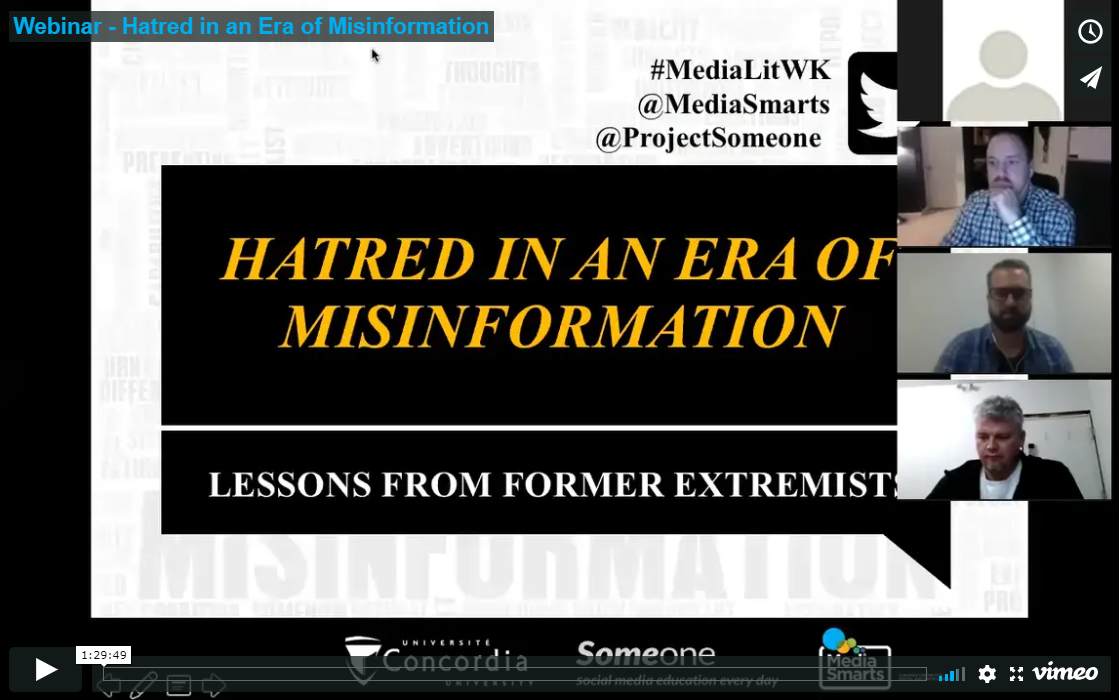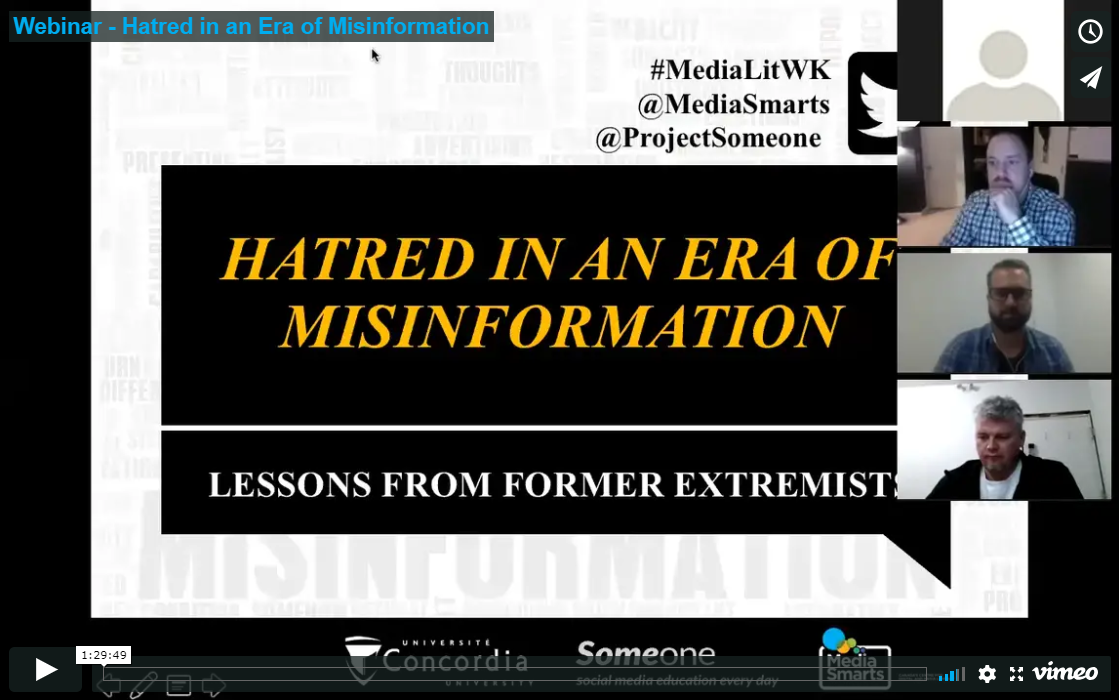 Recorded on November 6, 2018, the interactive webinar titled "Hate in the Age of Disinformation: Lessons from Former Extremists" features Brad Galloway and Marc Clairoux, two former right-wing extremists. They discuss their personal experiences in recruiting young people on the Internet and offer insights on how to identify online hate speech.
To view the webinar, click here.
JOURNÉES EURO-MÉDITERRANÉENNES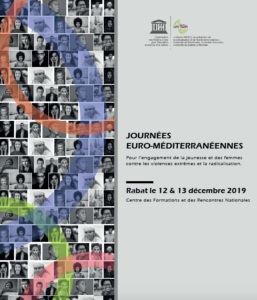 In December 2019, the UNESCO Chair in Prevention of Radicalisation and Violent Extremism participated in the organization of the following interviews. They were conducted by Rawda Harb and Vivek Venkatesh of Project Someone. The event took place over two days in Rabat, Morocco.
The event aimed to engage women and youth in the conversations and workshops about violence and radicalization, as they are often survivors of such acts. Moreover, the myriad roles of women and youth in preventing violence and radicalisation, improving critical thinking and nurturing resilience are crucial to any future progress in these areas.
The 12 participants are researchers, young students or professionals who gave insights on their work, passions, and expectations from the event. The interviews took place in the participants' language of choice (Arabic, English or French) and subsequently translated into the other official languages.
You can access the videos in all 3 languages on Project Someone's website by clicking on the picture above.
WORDS IN A CONTEXT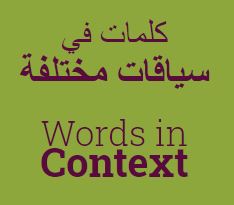 The "Words in context" database is now available on a web platform. It was developed by the researchers of Project Someone, of which co-holder Vivek Venkatesh is a member. This database was aimed at critically analyzing online discourses on themes and topics of interest for Lebanon and its neighbours in the year 2018. It also includes Canadian data collected in 2016 and 2017. 
The web platform is divided into several themes, each of which is presented as a policy brief. This information will be used to contribute to decision-making and policy formulation by researchers and public policy-makers, as well as to contribute to social action, counter-terrorism stories and related practices of practitioners and community leaders internationally.
WEBINAR: EVALUATING COMMUNITY ARTS-BASED PROGRAMS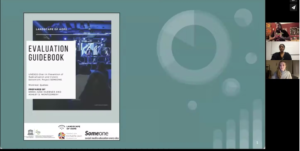 The Landscape of Hope team, led by Vivek Venkatesh, co-holder of the UNESCO-PREV Chair, organised a webinar on arts-based evaluation. This webinar, hosted by Emma June Huebner and Ashley S. Montgomery discussed the evaluation of community-based arts programs which will be particularly useful for evaluating art-driven and resilience-based initiatives, such as Landscape of Hope.
To access the webinar, click here