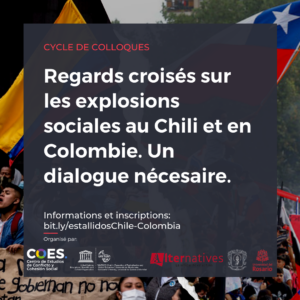 The UNESCO-PREV Chair, in partnership with Alternatives, the Centro de Estudios de Conflicto y Cohesión Social (COES) and Rosario University invite you to a series of online conferences entitled "Crossed perspectives on social explosions in Chile and Colombia. A necessary dialogue".
In this series of conferences, researchers and civil society representatives from both countries will discuss repression, forms of protest, activism, polarization and possible solutions to the conflict. It will also be a time to elaborate on the commonalities and differences between these crises through the eyes of multiple panelists.
Five conferences are planned for June, July and August, for which simultaneous translation from Spanish to French will be available. The conference and registration website will soon be translated into French to facilitate registration. There is no English translation available for this event.
Photo Credit : Centro de Estudios de Conflicto y Cohesión Social, Alternatives and Chaire UNESCO-PREV