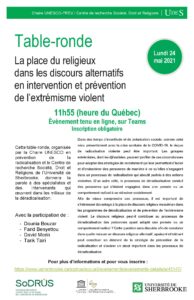 In times of uncertainty and social polarization, such as the current COVID-19 health crisis, the risk of violent radicalization can be significant. Extremist groups, including jihadists, can take advantage of these circumstances to adopt recruitment strategies that allow them to isolate and indoctrinate individuals so that they engage in a radicalization process. Thus, that sometimes leads to violent actions. On the other hand, the process of de-radicalization leads people who have engaged in radical thought or behavior to reintegrate socially.
In order to better understand these processes, it is important to look more closely at the place of Islamic religious discourse in deradicalization and violent extremism prevention programs. Can religious discourse contribute to the deradicalization process of individuals who have engaged in radical thought or behavior? This question will be discussed in order to find out to what extent an alternative, soothing and tolerant religious discourse can be an element of the prevention of radicalization strategy. It will be discussed how it can be an important asset in the deradicalization processes.
This roundtable, organized by the Chair and the Centre de recherche Société, Droit et Religions of the Université de Sherbrooke, will give the floor to specialists and practitioners working in the field of deradicalization. Co-chair David Morin, Ph. D. candidate Tarik Tairi and other speakers will participate in this activity.
Please note that the roundtable will be in French.
Photo Credit : Centre de recherche Société, Droit et Religions de l'Université de Sherbrooke (SoDRUS)