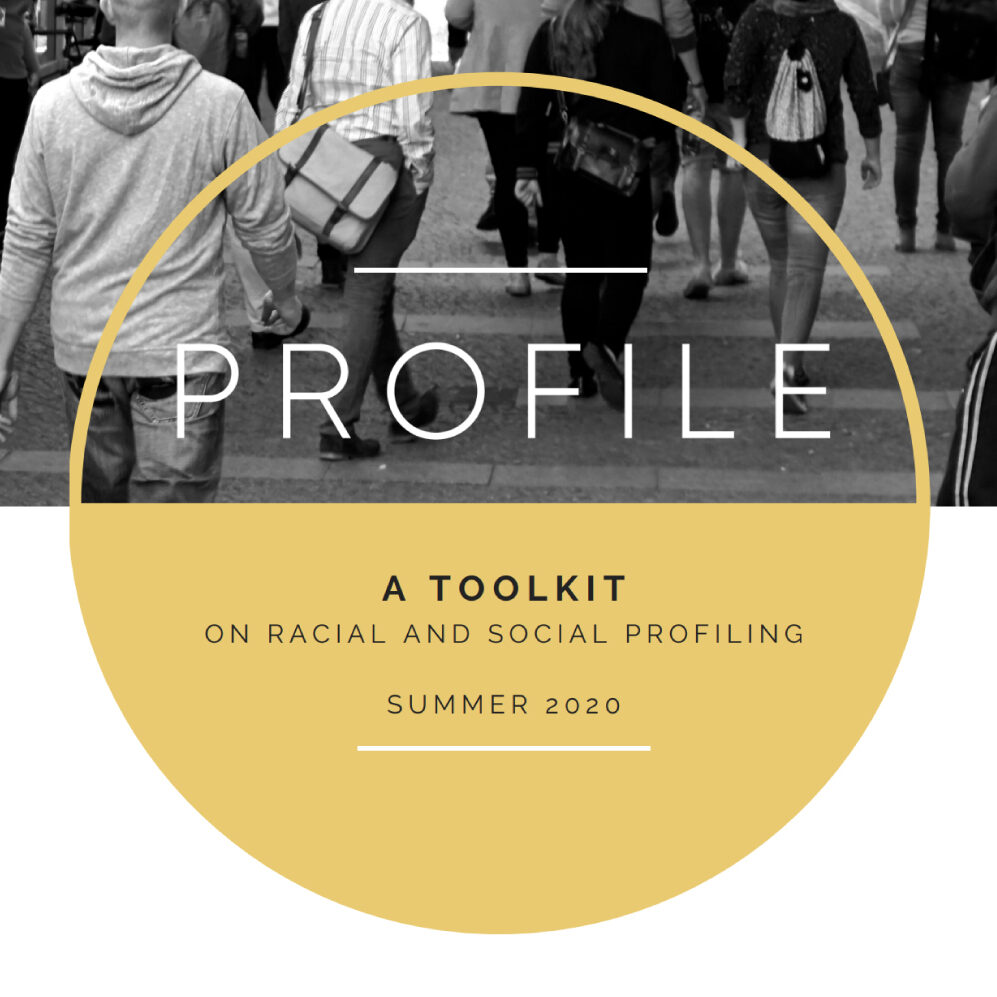 Ottawa, June 16, 2020 — The events of recent weeks have strongly reiterated the need to redouble efforts to combat racism and discrimination in all its forms. This includes the various manifestations of racial and social profiling, a scourge that must be stopped.
The Canadian Commission for UNESCO (CCUNESCO), the UNESCO Chair on the Prevention of Radicalization and Violent Extremism (UNESCO-PREV) and Project SOMEONE (Social Media Education Every Day) announce the launch of PROFILE, a toolkit to combat racial and social profiling.
Despite the increasing number of reports denouncing profiling practices in Canadian society, particularly in police forces, very few commitments have been made to date to curb this widespread practice. In the aftermath of the tragic death of George Floyd and the many demonstrations to denounce racism in Canada and around the world, voices are being raised calling for concrete action to end profiling and its devastating effects on individuals and communities. These same voices are denouncing the inaction shown by a large majority of institutions to date.
The Canadian Commission for UNESCO has joined forces with Vivek Venkatesh, UNESCO co-Chair on the Prevention of Radicalization and Extremism and Director of Project SOMEONE, to fill an important gap in combating racial and social profiling. PROFILE was created for educational purposes. The objective is to better inform, raise awareness and build sensibilities in persons who may engage in profiling consciously or unconsciously. PROFILE offers front-line stakeholders such as community leaders, health providers, education stakeholders and police officers the opportunity to understand what exactly racial and social profiling is so that they can meaningfully confront it. The tool proposes various solutions to break a vicious circle which begins with the very denial of the existence of this problem. As part of CCUNESCO's longstanding efforts to end racism and discrimination, PROFILE will be widely disseminated to members of its Coalition of Inclusive Municipalities and other partners.
"We need to include the voices and stories of those who are most marginalized in our society, using multi-stakeholder approaches to combat the insidious disease of profiling. Mental health, social services, public safety, public security, community activism and education must work together to rid ourselves of this terrible social ill", says Vivek Venkatesh, Full Professor of Inclusive Practices in Visual Arts in the Department of Arts Education in the Faculty of Fine Arts at Concordia University.
"We should no longer have to convince anyone that racism is ravaging our societies. And we know that profiling remains one of its most pervasive and pernicious expressions, claiming victims day after day", says Sébastien Goupil, Secretary-General of the Canadian Commission for UNESCO. "Now is not the time for observations, but for action. We must unite our voices and our strengths to bring concrete solutions. This is the whole intention behind PROFILE."
Given the great sensitivities surrounding profiling issues and the desire that this tool be used to establish a necessary dialogue, every effort has been made to adopt a constructive tone. The analyses found in PROFILE are based on several data sources, including various published reports on the issue and discussions on online forums. The tool also draws heavily on interviews conducted by Professor Venkatesh's team with artists, activists, police, social workers, and Indigenous elders.
The multimedia version of the PROFILE toolkit is available on Project SOMEONE's website.
Canadian Commission for UNESCO
The Canadian Commission for UNESCO (CCUNESCO) serves as a bridge between Canadians and the vital work of UNESCO—the United Nations Educational, Scientific and Cultural Organization. Through its networks and partners, the Commission promotes UNESCO values, priorities and programs in Canada and brings the voices of Canadian experts to the international stage. The Commission facilitates cooperation and knowledge mobilization in the fields of education, sciences, culture, communication and information to address some of the most complex challenges facing humanity. Its activities are guided by the United Nations' 2030 Agenda for Sustainable Development and other UNESCO priorities. CCUNESCO operates under the authority of the Canada Council for the Arts.
UNESCO-PREV Chair
Created in the fall of 2017, the Chair aims to act as a centre of excellence to develop, share and promote research and actions in the context of primary, secondary and tertiary prevention of violent radicalization and extremism. It ensures close cooperation among researchers and communities of practice in a comparative, multidisciplinary and North-South perspective.
– 30 –
Information
For more details about the Canadian Commission for UNESCO or to speak with Sébastien Goupil:
Vanessa Poulin-Gladu
Acting Manager, Public Affairs | Canadian Commission for UNESCO
vanessa.poulin-gladu@ccunesco.ca
C : 613-862-1637
@CCUNESCO
For more information on the PROFILE toolkit or to book an interview with Vivek Venkatesh :
Patrick Lejtenyi
Advisor, Public Affairs | Concordia University
patrick.lejtenyi@concordia.ca
T : 514 848-2424, ext. 5068
C : 514 892-6446
@ConcordiaUnews
Photo credit : Project SOMEONE