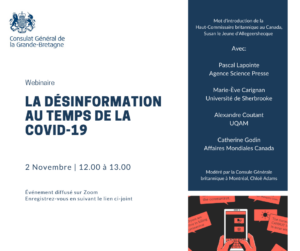 Marie-Ève Carignan, Director of the Media Division for the UNESCO-PREV Chair, will participate in this webinar on misinformation in the era of the COVID-19 pandemic.
The COVID-19 pandemic has exacerbated the trend of social media disseminating alternative facts and conspiracy theories at breakneck speed. As a result, media and in-depth journalism are increasingly neglected in favour of individual research and personal beliefs. What can explain this growing mistrust of scientific facts and why? If possible, how can we restore people's confidence in scientific and journalistic authority?
This event, organized by the British Consulate-General in Montréal, will take place online on the Zoom platform on Monday, November 2, from 12:00 to 1:00 p.m. This panel will be prior preparation for the Global Conference for Media Freedom which will take place in mid-November 2020.
The event will also be broadcast live on the British High Commission's Facebook page.
Please note that the webinar was held in French.
Photo credit : British Consulate-General in Montréal