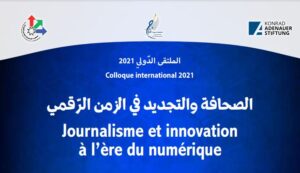 L'institut de presse et des sciences de l'information (Tunisia) is organizing an international conference on April 7 and 8, 2021 on the theme "Journalism and innovation in the digital age".
The Head of the Media Division Marie-Ève Carignan and her colleague Dany Baillargeon, both communication professors at the University of Sherbrooke, will give a lecture in collaboration with Alexandre Coutant. The title of the lecture is "Journalism, marketing and native advertising: putting an end to the dialogue of the deaf by repositioning the citizen at the heart of the practices". The conference featuring Professor Carignan will take place at 10:00 a.m. EDT.
Click here to see the program. 
Photo Credit : L'institut de presse et des sciences de l'information