Méthodes d'intervention en prévention de la radicalisation. Éditions La boîte à pandore (Ruffion, A. – Ed).
By Alava, S.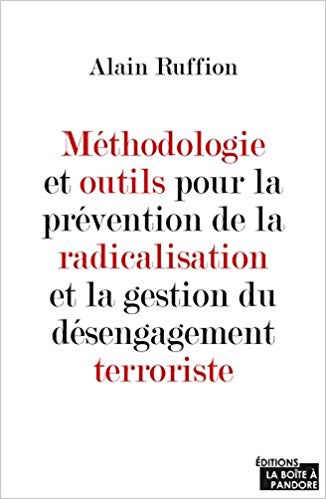 Manuel Valls has just set up centers for the prevention of radicalization and de-radicalization throughout France. His book facilitates the diagnosis and prevention of these behaviors. Alain Ruffion is a psycho-sociologist and psychoanalyst. Engaged in training mentors on intercultural dialogue in at-risk neighborhoods, he heads Unismed, an NGO that trains territorial officers, teachers, and social workers in the prevention of radicalization and the disengagement of those who have been involved in jihad. This practical and intelligent book provides a methodology.
Alain Ruffion is the Director of Unismed, a father of 3 children, a psychosociologist, a psychoanalyst and a training specialist. He has been involved in the treatment and prevention of radicalization since 2012. He manages a team of 30 people and will take part in the International Symposium on the Prevention of Deradicalization in Geneva.