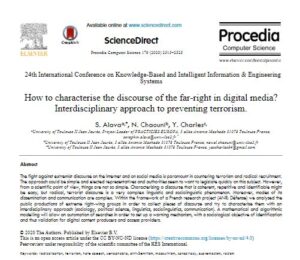 By Séraphin Alava, associate member of the UNESCO-PREV Chair, Nawel Chaouni and Y. Charles. 
The fight against extremist discourse on the Internet and on social media is paramount in countering terrorism and radical recruitment. The approach could be simple and elected representatives and authorities seem to want to legislate quickly on this subject. 
However, from a scientific point of view, things are not so simple. Characterising a discourse that is coherent, repetitive and identifiable might be easy, but radical, terrorist discourse is a very complex linguistic and sociolinguistic phenomenon. Moreover, modes of its dissemination and communication are complex. Within the framework of a French research project (ANR: Défense) we analysed the public productions of extreme right-wing groups in order to collect pieces of discourse and try to characterise them with an interdisciplinary approach (sociology, political science, linguistics, sociolinguistics, communication). A mathematical and algorithmic modelling will allow an automation of searches in order to set up a warning mechanism, with a sociological objective of identification and thus validation for digital content producers and access providers.
Photo credit : Science Direct