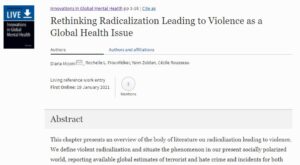 A new book chapter about radicalization leading to violence as a public health issue has recently been published.
The chapter was co-written by Diana Miconi, Rochelle L. Frounfelker, Yann Zoldan and Cécile Rousseau. The book, edited by Samuel O. Okpaku, is entitled Innovations in Global Mental Health. 
The chapter was co-written by Cécile Rousseau, Full Professor in the Faculty of Medicine at McGill University and Associate Member of the UNESCO-PREV Chair. She is also the Scientific Director of the Research and Action Team on Social Polarization (RAPS), a regular partner of the Chair. 
Photo Credit : Springer