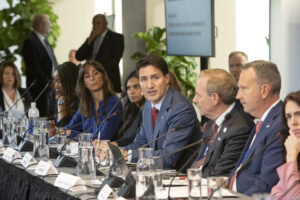 Our co-holder Ghayda Hassan participated in the third edition of the Christchurch Call for Action's Leaders' Summit 2022 held on September 20, 2022 in New York City.
The meeting brought together leaders from government, online service providers and civil society. The summit provided a platform for leaders to review community priorities, formulate their own priorities, and provide strategic direction for the coming year. Leaders also considered the challenges and opportunities ahead, including the impact that new technologies could have on the community's work. The discussion focused on three topics:
– Incident response, and the ongoing challenge of terrorist and violent extremist content.
– Algorithms, radicalization and gender
– The future direction of new technologies and youth.
The leaders' summit is under the leadership of New Zealand and France. Present at the event, among other leaders, were the Prime Minister of New Zealand, Jacinda Ardern, the French President, Emmanuel Macron, and the Prime Minister, Justin Trudeau.