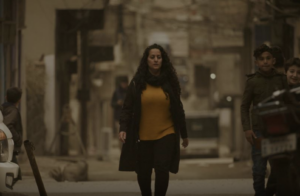 Ghayda Hassan and David Morin, co-holders of the UNESCO-PREV Chair, participated in the remarkable Quebec documentary Les poussières de Daech, which aired on Télé-Québec on September 2. The documentary will be broadcast again on September 9, 2020.
The film follows T'es où, Youssef?, a documentary on the perilous investigation of a journalist trying to find his friend who left to join Daech.
"The situation is such that the people who are there, in these camps which are run by the Kurds, are in horrible situations. And when I say horrible, I am minimizing… There are daily deaths, disease, starvation, malnutrition. At this point, countries will find themselves facing charges of quasi-criminal negligence for failing to pick up a child who is living in conditions that will lead to his or her death. The child and his mother must be brought back!" says Ghayda Hassan, a psychologist who participated in the development of the RCMP's plan to handle the eventual return of former members of Daech. She is also a co-holder of the UNESCO-PREV Chair.
Synopsis
Youssef, a young Quebecer of Moroccan origin, became radicalized and joined the ranks of Daech in Syria. In the midst of the bombings, he and his wife had a baby. What will happen to the baby? Leïla, Youssef's sister, and Raed, his school friend, are on a mission. They will go all the way to Syria to find the little girl and bring her a glimmer of hope, in a refugee camp under close surveillance. This child did not choose to belong to a terrorist organization. Will she have to pay with her life for her parents' decisions?
Click here to watch the movie trailer.
Please note that the trailer and movie are broadcast in French only on Télé-Québec.
Photo credit: Télé-Québec