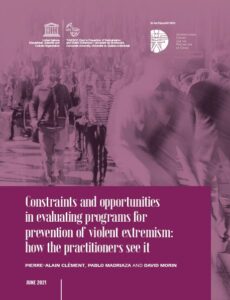 For practitioners, program evaluation appears to be a crossroads between constraints and opportunities. It is sometimes experienced as an obligation and an audit. However, at the same time, it is a favorable opportunity for improving practices and for defining the identity of practitioners in a field with blurred and porous boundaries.
In this report, the experts seek to clarify these elements on the basis of information provided by practitioners working on a daily basis to prevent radicalization leading to violence.
This report was produced as part of the PREV-IMPACT project, an initiative of the UNESCO Chair on the Prevention of Radicalization and Violent Extremism (UNESCO-PREV Chair). It is based on semi-directed interviews conducted in an earlier study by the International Centre for the Prevention of Crime (ICPC) (Madriaza, Ponsot, & Marion, 2017) and a focus group conducted by the UNESCO-PREV Chair in Ottawa, Canada in March 2019.
The participants in these interviews and the focus group were 57 professionals involved in prevention of violent extremism (PVE), from six different regions of the world: North America, Europe, sub-Saharan Africa, North Africa and the Middle East, Asia, and Oceania. The purpose of the report is to further examine what these professionals had to say about their experiences in delivering PVE programs in the field, and, in particular, about their experiences with the evaluation of such programs.
Article by Marianne Renauld Robitaille
Photo Credit : UNESCO-PREV Chair and International Centre for the Prevention of Crime (ICPC)