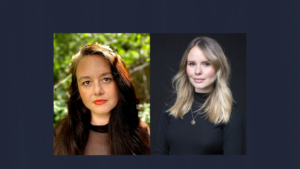 Our Project Someone partners warmly welcome Jessie Beier as a Horizon Doctoral Fellow and Léa Clermont-Dion as a Postdoctoral Research Associate. Jessie and Léa will be collaborating with Owen Chapman and our co-holder Vivek Venkatesh on the Landscape of Hope project. Below is more information about the work Jessie and Lea plan to do for the Someone Project.
Jessie Beier is a teacher, artist, author, and creator of "strange pedagogies" for unthinking futures. She recently completed her PhD at the University of Alberta in the Department of Secondary Education. Her SSHRC-funded doctoral project is entitled: "Pedagogy at the End of the World: Weird Pedagogies for Unthought Educational Futures."
As a Horizon Postdoctoral Fellow, Jessie will co-lead activities related to the Landscape of Hope research-creation project. She will work with partners to develop and deliver programming and do improvisational creation with participants and artist team members to create artistic productions. Ultimately, she will share what comes out of her experiences through publications, workshops and other public events.
"I am also looking forward to continuing my research, which aims to conjure what I refer to as 'strange pedagogy,' by pairing my knowledge of research-creation, radical pedagogy, and philosophical speculation to examine the possibility and challenges that exist regarding the creation of 'landscapes of hope,' both in person and virtually, in our world that faces many unprecedented crises." Jessie Beier
Lea Clermont joins the team as a postdoctoral research associate for Landscape of Hope. She holds a PhD in political science from Université Laval and is a Vanier Scholar. Her research focuses on power dynamics, social networks, cyber violence and feminist studies. In addition to her academic research, Léa Clermont-Dion is an experienced documentary filmmaker who uses a sociological field approach to ground her creations. Her next feature-length documentary, Backlash: Online Misogyny in the Digital Age, co-directed with Guylaine Maroist, will be presented in theaters, on the Documentary Channel and Radio-Canada in 2022.
"I'm Listening is a podcast that will give voice to youth in marginalized communities through Project Someone's Landscape of Hope initiative. The goal of this project is to promote knowledge of digital tools to empower teenagers to have a voice. In addition to this creative part of my postdoc, I will also be continuing my research on the use of social networks as a tool for youth reclaiming." – Léa Clermont-Dion.
Article by Projet Someone
Crédit Photo: Projet Someone