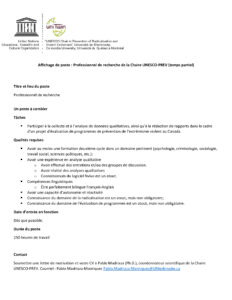 We are looking for a part-time research professional.
Tasks:
Participate in qualitative data collection, analysis, and report writing for a project evaluating violent extremism prevention programs in Canada.
Qualifications:
At least a graduate degree in a relevant field (psychology, criminology, sociology, social work, political science, etc.)
Experience in qualitative analysis:

Have conducted interviews and/or focus groups.
Experience conducting qualitative analyses
Knowledge of Nvivo software is an asset.

Language skills:

Be perfectly bilingual in French and English

Ability to work independently and be responsive
Knowledge of the field of radicalization is an asset, but not mandatory;
Knowledge of program evaluation is an asset, but not required.
Start date :
Duration of the position:
Contact:

Submit a cover letter and resume to Dr. Pablo Madriaza, Scientific Coordinator of the UNESCO-PREV Chair. E-mail:  Pablo.Madriaza-Manriquez@USherbrooke.ca
Join the team!
Article by Stéphane Martire