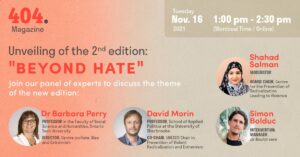 Our co-holder David Morin will participate in the unveiling of the 2nd edition of 404 Magazine: Beyond Hate in partnership with the CPRMV during a panel discussion on November 16 from 1 to 2:30 pm.
"Beyond Hate," the theme of this new edition addresses the important issues associated with the phenomenon by giving voice to multiple voices and, most importantly, focuses on avenues for action to build resilience to hate. Be the first to discover all the content as well as the new, completely redesigned website!
The unveiling will be followed by a panel discussion moderated by Shahad Salman, Chair of the CPRMV Board of Directors. We will have the privilege of hearing and discussing with partners who have collaborated on the magazine:
Professor, Faculty of Social Sciences and Humanities, Ontario Tech University
Director, Centre for the Study of Hate, Bias and Extremism 
Professor, School of Applied Politics, Université de Sherbrooke 
Co-Chair, UNESCO Chair in the Prevention of Violent Radicalization and Extremism  
Intervention Manager, Le Boulot vers
This event will be held in French with simultaneous translation offered in English.
Article by CPRMV
Crédit Photo: CPRMV